How to Promote Your Digital Book on Social Media
Social media is a powerful tool that you can use to generate sales with your book. Where else can you consistently stay in front of all the people you know? You can step up your reach by positioning yourself as an expert.
Obviously, the more engaged you are on social media and the more followers you have, the more successful you'll be at securing sales and referrals with your book. If you're not active on social media, we recommend trying to increase your reach and engaging with your followers on a regular basis.


Here's a quick overview of how you can share your digital book on Facebook and Instagram.
Facebook
There are a few ways you can promote your book through your Facebook page.
Cover photo
When you create a book through our Book Builder app, our team will generate banner ads and other promotional images you can use to promote it. Save these images on your desktop or somewhere else you can easily access them.
Click on the button in the upper left corner of your cover photo that says Add a Cover then select the option that says Upload Photo/Video from the dropdown menu. When the upload box appears, find the image you want to use, click to select it and upload.

CTA Button
This will only work on an actual Facebook business page, not on your personal Facebook page.
Just under your cover image to the right, you'll see a blue button that says Add a Button. When the box pops up, choose the option that says Learn more about your business > Learn more, then click Next.



Click where it says Website Link, then paste in a link to your author site or digital book link into the box. Your digital book is actually available to read on your author site, so if you want to promote your whole site, link to it here.
Click Save, then Finish.
When you're done, a button will appear that says Learn More. You can hover over this button to test it out or to change it in the future.
Facebook Posts
If you want to promote your book to all of your followers and make sure it appears on their timelines, create an actual post with your digital book link or author site.
Copy and paste your link into a post from your page and upload a photo of your banner ad or another promotional image from our team. If you have physical books on hand, you can also take a picture of yourself holding up your book or a picture of a pile of books on your desk. Post something like:
"Thinking about selling your home? Check out my book that shows you how to get the most money in the least amount of time! Click here to read it for free!"
Click publish, and your post will be shared with all of your followers. You can also boost it for a small amount of money to people in your area who may be looking to buy or sell. Just click Boost under your published post and follow the steps to select your leads.
If you want this post to stay at the top of your page so it doesn't get bumped down by other content in the future, click on the three buttons to the top right of your post. Click where it says Pin to Top of Page.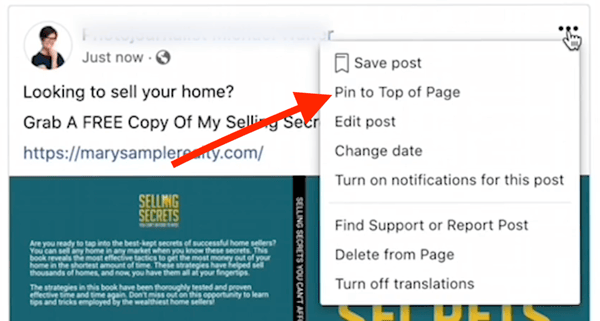 You can also encourage shares of your post by holding a contest for people who share it. Enter them into a drawing once a month for a restaurant gift card, sports or event tickets, or a membership to a local zoo or museum.
About Section
You can also include the link in your "About" information on your personal or business page so anyone who visits your page can find it when they click to learn more about you.
Instagram
Included in your promotional images is an Instagram-ready ad for your book. You can post this or share a photo of yourself holding your book or your book cover on its own.
When you post on instagram, you can't put your link in the actual post. You have to tell people to click the link in your bio.
To add or change the link in your bio, visit your page from the app on your phone (or visit Instagram.com/profilename from your computer) and click Edit Profile. Copy and paste the link to your author site or digital book where it says Website.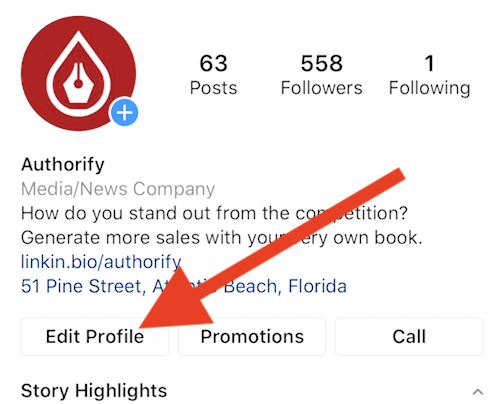 Your site will remain on your profile until you decide to change it. When you create a post, direct people to click the link in your bio.
Results in Action
According to Lou, one of our members, when he received his initial order of books, he posted a picture of them on Facebook with an announcement.
"Then, another gentleman, who I had known previously as a result of seeing my book posted on Facebook, said, 'Hey Lou, I'd like to talk to you. I've got an opportunity, a piece of real estate I need to get sold.'
"When we spoke, I found out that that piece of real estate was real estate that he had inherited from the death of his uncle and that he was the co-executor on the estate and he wanted me to come over and take a look at it to see what it was worth.
"I went through the entire process with him. I gave him a home evaluation, and we listed the property, and we wound up selling the property within 24 hours of it going into the MLS at full price. We sold it at $379,000," Lou said.
"I've got a listing right now, and it also came about as a result of the book. It's a single-family home in a town called Hainesport, New Jersey, and that will be a $499,000 listing when it comes to fruition. That came from a referral who I'd given the book to."
In addition, Lou has two more listings that also came from the books. One was a duplex in need of rehab. "We sold it at $379,000, full-price offer," Lou said. "We listed it at $379,000, sold it at $379,000, and he's just ecstatic because he never thought he'd get that much money for the property." In this instance, Lou had grown up with the seller, although they hadn't seen each other for nearly 25 years.
"We had connected on Facebook, but had not really communicated at all on Facebook, and it wasn't until he saw the posting with my book on Facebook that he called me to see what I thought about this piece of property."
What was especially interesting to Lou is that his old friend had been sitting on this piece of inherited property for months. The seller had been talking to other agents and had only reached out to Lou after Lou posted a copy of his book on Facebook. "The book was definitely the trigger," said Lou. "I've got several other opportunities in the pipeline. I've got a listing right now that I'm waiting on, and it also came about as a result of the book. It's a single-family home, and that will be a $499,000 listing when it comes to fruition."
The duplex seller made contact in response to his Secret of Wealthy Home Sellers post. Lou posted on both his personal and business accounts. "I posted a picture of the cover of the book, and then I posted along with that some verbiage: 'If you're thinking of buying or selling and want to know what the value of your home is, please don't hesitate to give me a call,' and 'Click, and get a free copy of my book and let me know if I can be of service, yada, yada, yada.' I'm actually meeting with another gentleman tomorrow who is a real tech expert, and he's going to help me to really focus on utilizing Facebook as a marketing tool in conjunction with my book."